Autokeka, MB
Birutės g. 23B, 91214 Klaipėda
(+370) 61044270
www.autokeka.lt
Work hours
I-V 8.00-18.00, VI 10.00-15.00
Director
Andrius Kapočius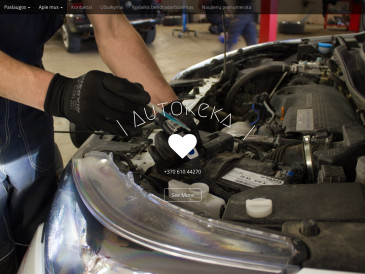 Responses
2016.04.04
Eglė
Esu patenkinta darbu.
2016.03.20
auto
nu dar tokiu meistru neteko sutikti, jei nesugebejo darant diagnostika, pastebeti jog sugedes kuro siurblys ir del to nepavyksta automobilio uzvesti. ir dar automobili para laiko islaike servise
2015.01.22
Marius
Greitai, operatyviai ir kokybiškai dirbantis servizas. Tikrai atsakingai žiūrintys į savo darbą vyrai.
2014.12.14
Kaina
Esu patenkintas kainos kokybės santykiu. Savo darbą išmano jaunimas.
2014.12.03
mazda
suremontavo puikiai ir pigiai
2014.11.21
tomas
super servisas, remontouja tikrai kokybiskai man labai patiko
2014.11.19
Pijus
Kokybiškai randa priimtiniausią sprendimą kebliose situacijose. Ne kartą jau nustebino vyrai!
2014.09.23
Gediminas
Gerai, greitai ir kokybiškai vyrai dirba. Nelupa ir svarbiausiai neprirašinėja nebūtų darbų. Esu patenkintas, pastoviai ten tvarkausi ir kitiems rekomenduoju.
Visitor statistics
Duomenų atnaujinimas
Search words
service
,
garage
,
automobile garage
,
car repair
,
auto-diagnostics
,
auto repair
,
repairs
,
auto service in Klaipėda, services of auto electrician, auto -electrician, computerized engine diagnostics, installation of alarm, security systems, technical supervision, car inspection before purchase, engine repairs, replacement of belts, replacement of thermostat, replacement of oils, repair of generator, technical service, diagnostics of fuel system, repair of fuel system, consultations, accumulators
more...
Photos