E. Juciaus IĮ
Gegužės g. 4-1, 92122 Klaipėda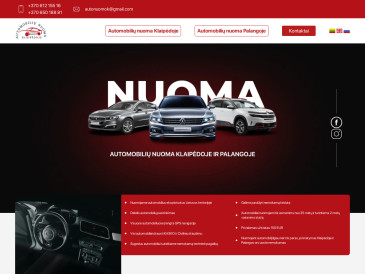 Responses
2016.02.11
Vytautas
esu šios įmonės klientas, galiu pasakyti, kad tai puiki įmonė, maloniai bendrauja, aptarnauja, priimtinos kainos
2013.10.23
Ricardas
Geras kainos ir kokybes santykis ,saunuoliai.(p.s. galima pasideret,sekmes).
2012.12.12
Gintaras
Labai geras aptarnavimas, puikus kainos ir kokybės santykis
Visitor statistics
Duomenų atnaujinimas
of them is periodically inspected by certified mechanics. Category B driving licence is required in order to drive our vehicles (both cars and minivans). When prior arrangements are made, rental vehicle can be delivered to you at an appointed time and place. We provide 24/7 roadside assistance. Also, we offer pickup service from airports, stations or other locations.
Our mission is to be a reliable and responsible partner, to take care of our customer needs and to provide high quality services.
more...
Our company rents used economy class, luxury class cars and minivans. Our rental cars are clean, well - maintained, comfortable, and economical. Each
Activities
Prekės, paslaugos
Photos